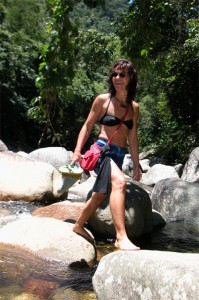 I'd been to every country on my list except for one, Brazil. The Brazil in my head was passion, romance, the samba, fresh fruit, tropical beaches, and the bossanova. When I heard that in Brazil it's rude to show up on time for social engagements, I thought that this just might be the place for me. How could I not love a country where I'd always be on time? There was also the hope that in Brazil, I could blend in more easily than in Bali, my other favorite place on the planet. There¹s no way I'll ever be Balinese, but maybe I could be Brazilian.
Brazil is a colossal country with more beaches than all of California and Florida put together, so where to begin? I started by emailing expatriates who lived in Brazil. And that is how I came to meet Jim and Debbie, and how I came to be not on a Brazilian beach, but in the mountains in Teresopolis, 3,000 feet above Rio.
Jim and Debbie spent years trekking in Brazil before purchasing a home last year in Teresopolis. For me, the opportunity to begin my exploration of Brazil under the tutelage of American Brazilophiles, was ideal. I accepted their invitation to visit.