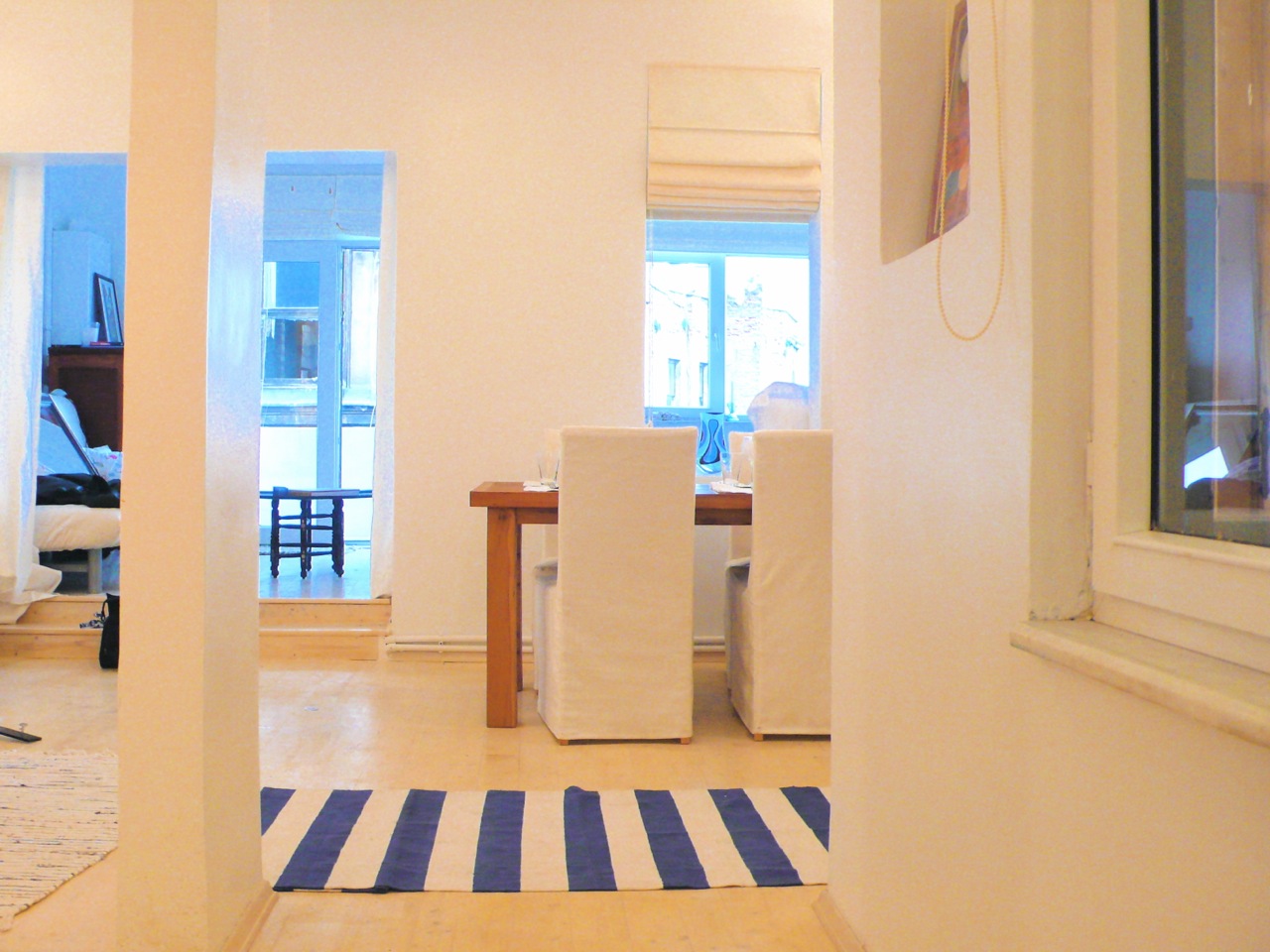 (More photos below)
Located 1/2 city block from Istanbul's Galata Tower, this furnished flat is the perfect pied a terre for an Istanbul lover! Or an income earning short or long term vacation rental for someone living anywhere.
I bought and renovated this flat in 2007, and since have rented it for $160 a night at around 75% average annual occupancy. Great investment and fun place to stay when I am in Istanbul. It has views of Topkapki Palace, the Golden Horn, the Bosphorus, and the Marmara Sea. On the floor above this flat is a large roof terrace with incredible 180 degree views. I renovated this roof terrace and added a barbecue grill, small food prep area with running water, and teak furniture. The roof terrace is currently shared with 4 flats in the building – a building that, like so many others in this neighborhood, is gradually converting from businesses to residences. The roof terrace is the perfect place to entertain or relax with a glass of wine while overlooking the famous mosque-studded skyline of Istanbul and the boats crisscrossing the Bosphorus.
The flat is sunny and bright with a french door leading to the balcony. It is about 55 square meters or around 550 square feet. The bathroom is tile with a teak counter and raised sink. The large glass enclosed shower has a large raindrop shower head. The kitchen is open to the salon and dining area. There is an enclosed bedroom and a long salon with 2 twin beds and a sleeper sofa. There is a curtain to divide the 2 areas.
Turkish touches, textiles and antiques throughout.
The Galata neighborhood is the perfect place to be in Istanbul as it's just minutes from hundreds of restaurants and 5 minutes from Istanbul's most active night life. Not to mention the hundreds of boutiques and tea gardens for miles around. Just down the hill is the newly gentrified Karakoy neighborhood, and the Galata Bridge leading to the Egyptian Spice Market. Just up the hill is "Music Street" and the beginning of the 2 mile long pedestrian only Istiklal Avenue leading to Taksim Square. At last count there were over 950 restaurants and bars along this street and adjacent alley ways. It's where the best dining in Istanbul can be found.
This flat is on the 5th floor of an old Istanbul building. There is a shaft where an elevator can easily be installed.
So why am I thinking of selling this gem of an apartment? I am back in California to be near my children, grandchildren and aging parents.
I'll be in Istanbul on Oct 16, 2015 to get a real estate appraisal on the value of the flat. I will be selling it for cash (USD).
To arrange a viewing, email me at robin@robinsparks.com.