(This post is under construction. Stay tuned as I complete the uploading of photos and videos)
May 20, 2013 -Istanbul

I arrived in Istanbul at 5:30 am on Friday. 12 hours later, I sipped Turkish tea on Turnacibasi Cadessi with a Sufi named Mustafa. He walked me home hoisting my bag in true Turkman fashion along the cobblestone alleys past the nargile cafes, past the old Galatasaray Hamam, winding around Cucurcuma's antique filled shops, stopping intermittently to tell me in Turkish and in English about the interconnectedness of all things and about living from the heart. I looked into his eyes and listened with my heart because we had few words in common. "Anlidim" I said. I understand. Mustafa was telling me that when live from our hearts, divine energy enters and cannot help but spill out into the world.
So grateful for the mystery, serendipity, connection, authenticity and love wherever I am on the planet.
Robin
–
May 28, 2013 (see photos on FB timeline).
I am here for a wedding. A boy I watched grow up in California will marry a girl from Lebanon, and they and their loved ones have come together from San Francisco, LA, Beirut, Afghanistan, and beyond to marry in Istanbul.There are parties each night, concluding with the wedding at one of Istanbul's most grand Ottoman palaces – the Ciragan. At the reception, a Turkish Symphony plays, and then a DJ from San Diego, and young and old dance one moment, arms snaking to the sky, to hauntingly beautiful Middle Eastern music, and the next to Bob Dylan. I step outside and watch the fat full moon rise over the Bosphorus, and I think that maybe, just maybe, Istanbul has come together, and is ready to show the world that Westerners and Middle Easterners can live together peacefully. Maybe I can live here again.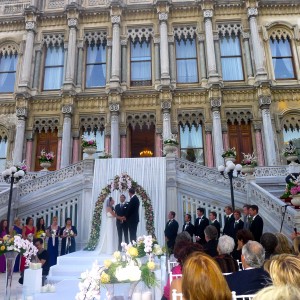 May 31, 2013
I am in Istanbul, a city of 14 million loving, kind, generous Muslims. I am ALL about connection. It's why I do what I do, and it's who I am. This video warms my heart and I post it on Facebook.
Meet A Muslim Person.
Meet a Muslim
June 1, 2013 – Ist
P1050752
Istanbul has turned into a war zone and still they march to save their last green space. 6:30 pm May 31, 2013.
P1050774
I filmed this scene in front of my flat seconds before the military vehicle up the street speeded towards us firing tear gas cannisters and water cannons. I turned to run with the others and felt something hit me in the back of the head hard. It threw me to the ground and 2 men helped me up and got me out of dangers way and walked me to the Italian Hospital. Lots of blood, but I felt curiously alert. At the hospital they stitched up my head where the fired tear gas cannister had hit me. Safely inside my flat now…and I heard (but not confirmed) that the military has pulled back and is letting protestors return to Taksim Square. Helicopters are circling overhead as I write this, but otherwise all relatively quiet now. Grateful to be ok and safe in my apartment.
http://https://www.facebook.com/photo.php?v=10151596534563808&set=vb.519023807&type=2&theater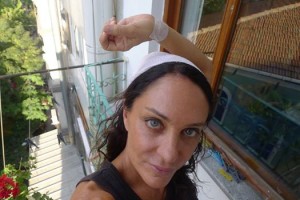 Solidarity for the Turks and showing off my war wounds – a slice on the wrist and a back of the head injury topped with an Iman's cap to hold the bandages in place.
Greg Miller
June 2
I coached a client via skype from today. I heard crowds shouting and chanting out her window in Istanbul and she just had gotten home from the hospital after getting hit in the head with a tear gas cannister, but was diligently working away on her book project and apologized for not having gotten more done! You go Robin Sparks! Meanwhile in Beverly Glen, at stately Nancy Wayne Manor
June 2
Met my friend Elif on the streets of Cihangir last night to eat, and we watched people party and celebrate and then it grew tense as reports filtered in that the mayhem had moved to Besiktas, so I returned home. This morning I woke, took out my earplugs and approached the window tentatively to open the curtains …it was quiet!!! First time in days. Doesn't mean there aren't riots elsewhere in the city, but it is Sunday in Turkey and Turks take their relaxation with friends on Sundays seriously. And #2, it's raining. Very strange for it to rain in Turkey this time of year. Can we (powers that be) make it rain nowadays? Would certainly be an efficient way to cool down a hot riot. Seriously, it's pouring now like it does in Bali and rarely if ever in Turkey.
June 3
8:30 PM
Ecstatic Dance at Taksim Square 8:30PM, June 3, 2013
SEE VIDEO ON ROBIN'S FB TIMELINE
9PM
Peace for now in Taksim Park. 9PM June 3 VIDEO ON FB TIMELINE
Peaceful protestors about an hour ago in the square near my flat.
PHOTO OF PEACEFUL PROTESTORS
P1050821
9pm 6/2/13- filmed in Istanbul's Cihangir neighborhood. Most took the day off for Turkish Khavalti and tea and now it looks we're in for another noisy night. In this video all over the city they are banging on pots & pans and flashing lights to show support for protestors headed back to Kabistas. I saw on the news protestors with trash bags and brooms cleaning up in Taksim Square. VIDEO ON ROBIN'S TIMELINE
JUNE 4, 2013
I attended a yoga class at 6:45PM and the teacher said in halting English that we are going through big changes which can create contraction causing us to forget to breathe. With that we commenced yoga class and an hour of deep focused breathing. I then walked up the street to Taksim Square where I'd heard they were celebrating. They were – thousands of Turks were streaming into the Square to eat and to dance Turk style. Erdogan reportedly ran to Africa. Gul announced the people have a right to protest peacefully and granted them the right to use Taksim Square today…At least this is what a Turkish man in Taksim Square told me. At 9PM the whole city got its pots and pans out again, flashed their lights on and off, and beeped their horns. It's something to hear in a city of 14 million + people. It's now 11PM and my neighborhood of Cihangir is full of people in sidewalk cafes dining and sipping tea, with the frequent outbreaks of song, chanting, whistling and clapping.
JUNE 5, 2013
It's a quiet Tuesday in Istanbul and I am wiped out from running on adrenaline for 4 days, so as I seem to have run out of steam, I am taking the night off from the revolution as it were.
At Yirme Bir, the cafe in Cihangir where I ate tonight, I spoke with Kursef , a Turkish revolutionary of yore and an author. When I asked him what was happening today in Istanbul, he said protestors were convening at Taksim Square (that was at 9:30pm), and that they would go on until 5am. He himself was planning to join them at midnight.
My friend Marco who is from Amsterdam and has lived in Istanbul for 5 years, said he heard today on the Dutch news that in Ankara, children were let out of school and took to the streets to join the protestors. The police told the young demonstrators that they had no license to protest and must return to school. They continued marching.
Pink Floyd's "The Wall" came to mind:
We don't need no education
We don't need no thought control…
Teachers leave them kids alone…
I don't need no arms around me
And I don't need no drugs to calm me.
I have seen the writing on the wall.
Don't think I need anything at all.
All in all it was all just bricks in the wall.
All in all you were all just bricks in the wall.
1273
JUNE 5, 2013
June 5 – I met a Turkish friend (who I first met in Bali 2 years ago) for tea. 'Aslan' said that today is a sacred holiday in which Muslims celebrate Mohammad's ascension. And for this reason, she added, most protestors are planning to stay in for the night. "They want to avoid provocation of devout Muslims and to demonstrate respect for everyone's beliefs and religion."
"Erdogan returns to Turkey tomorrow," she said. "So we are resting in preparation for tomorrow night (June 6) when beginning at 5PM, we will all go to Taksim Square."
I said I'd noticed that The Mind & Body Conference scheduled for this weekend had been canceled. "Makes sense," Aslan said. "It would have appeared extremely insensitive if they had continued with it. Everyone is canceling everything. Turks believe that this is a time to unite."
"Have you heard about what is happening in Maslak?" she asked. Apparently in the business center of Istanbul, there is a company called Dogus Group, owned by the second richest family in Turkey with holdings in banks, construction, media, and tourism companies. Because of close ties to the government, Dogus media did not report anything about the demonstrations the first 4 days. As a result white collar professionals have been protesting in front of the company's headquarters during lunch break. "Here are all these people wearing heels and suits, holding signs and chanting," she said. "Turks have also been withdrawing their money and closing their accounts at Dogus owned banks, and there is a moratorium on shopping malls for the next 7 days."
"Even conservatives are joining the demonstrations in whatever way they can," Aslan said. "This is beyond religion or belief. Everyone has come together and that's amazing."
"There's support and solidarity that is heart warming. Medical students are assisting the injured free of charge, and if something is burning, everyone pours water on it. Grandmothers who are house bound are making pies and serving food to protestors. I never imagined I'd see Turkey like this but it's happening."
"There's a cartoon being passed around," she said, "in which Obama is portrayed as this angry parent, scolding a bad-boy Erdogan. Obama says to Erdogan in the cartoon: 'We've been trying for years to segregate Turkey between the Kurds and the religious and the atheists, and here you've screwed it up in one night, and all over a park and 12 trees.'"
I asked, "What do you think will happen when Erdogan returns tomorrow?"
"I don't know," she said. "Just before he left, he made declarations that were incendiary, claiming that all the protestors were bums and that 50% of Turkey is waiting in their homes for him to give the word and they will come out against the protestors. He just doesn't get it." She added that yesterday the deputy prime minister apologized for the treatment of the protestors who were camping in the park that first night, but offered no apology to demonstrators that have been injured since that first incident. "He didn't come out and say it, but he inferred that the injured demonstrators deserved what they got," she said.
Aslan talked about how ironic it is that just last year Erdogan said to Assad of Syria, "Don't do this, put down your weapons." Assad, she points out, said exactly the same thing to Erdogan yesterday.
"Today there was a big meeting between the protestors and a government official with a list of demands," Aslan said. "Their demands are: a halt to redevelopment of Taksim Square, a ban on the use of tear gas by police, immediate release of detained protesters, freedom of expression and assembly, and removal from office of all officials responsible for the violent crackdown. Until those demands are met, protestors will not quit."
Aslan said, that late last night she flew into Istanbul from Ankara. Her phone was ringing off the hook until well after midnight with friends asking, "Why aren't you here? Why aren't you at the park?"
"At Gezi Park, Turks are posting their wishes, practicing yoga, playing music, dancing. They are even building a library with donated books so that those who live there 24 hours a day can read. Gezi Park has become a living space, and that is how it should be."
With that we paid the bill, said goodbye, and went home to rest.
JUNE 6, 2013
The scene last night, June 6, in Gezi Park, Istanbul, Turkey.
SEE VIDEO POSTED ON TIMELINE ON JUNE 7, 2013
SEE PHOTOS ON FB TIMELINE OF GEZI PARK AS PEOPLE'S PARK, POSTED JUNE 7, 2013
Erodogan has just finished his speech…not at all encouraging from what little I could understand, and yet, the streets of Cihangir are alive at 3am with the sounds of banging on pots and pans. Oh please don't let this country "in the middle", as I've come to think of it, become polarized.
Sunday June 9, demonstrators at Taksim Square in Istanbul
SEE VIDEO POSTED ON FB TIMELINE ON JUNE 10, 2013
A friend living in Istanbul wrote this on her facebook page about yesterday, June 9 at TAKSIM SQUARE. You couldn't see the ground much in Gezi Park. In Taksim Square you couldn't see your feet. The foreign press reported 10,000 people. Ten times that. I found congenial company and stayed with them all day. The PKK tried to start fights as they have been but the Woodstock-like ambience squelched that. No police, but people are expecting them. Most folks are professional people and go to work today (Monday), followed by the park. The conversation was about unity. Everyone from drag queens to little old covered ladies was there. My new friend Duygu said, "I do not know what we will have in the end, but I do know that in this beginning we have got past our barrier of fear."
JUNE 10, ROBIN'S GEZE PARK PHOTOS POSTED JUNE 11, 2013
June 11, 2013
After the police begin firing tear gas and the water cannons, I take a steep side road off the square. ROBIN VIDEO OF PEOPLE RUNNING DOWN SIDE STREETS FROM POLICE
Mayhem as the police take over Taksim Square.
VIDEO
4 PHOTOS ON FB
JUNE 11, 2013, POSTED JUNE 12
Tear gas in Cihangir. People running through the streets. Safe in my apartment. Shutting windows.
JUNE 12, 2013 POSTED JUNE 13, 2013
6/12/13 9PM – Today I spoke with 2 girls who are staying in Gezi Park and working in the S.O.S. (medical clinic) booth. In brief, today was peaceful in Gezi Park. But the sun is setting now, and spirits are a bit low. They are discouraged that protestors are being blamed for what they claim were police plants brought in to throw the molotov cocktails in order to justify police aggression. There is a photo being circulated that shows a man's arm raised to throw the molotov, and under his shirt is a gun and walkie talkie. Tonight another confrontation by police is expected. People are beginning to pour into the Square to support them now, even with the police presence. I want to be positive, but it's a bit ominous folks. Erdogan announced today that this will all be over in 24 hours. When I asked the girls how they think this will turn out, one said, "We do not know. But whatever happens, we have changed and nothing will ever be the same again." She added, "I was never proud to be a Turkish woman before, but I am now. " There is something so beautiful happening in that park and my admiration is just so deep for these brave souls on the front line. Please everyone send whatever positive heeby jeebies you believe in because we need it tonight in Turkey. Wouldn't it be amazing if those on both sides remembered that they have in common a deep abiding love for Turkey? And came to a solution based on what is best for this everyone in this country? Thank you for sharing this.
JUNE 13, POSTED JUNE 14, 2013
Yesterday Erodgan told parents to take control of their children and demand they return home from Gezi Park. Mothers formed a human chain between their children and the police. This one made me cry. VIDEO http://in.news.yahoo.com/video/mothers-form-chain-protect-protesters-211541779.html
JUNE 16, POSTED JUNE 17, 2013
Almost 24 hours ago we received news that the police were moving into Gezi Park. This is how my neighborhood responded.
VIDEO OF NIGHT POT BANGING IN CIHANGIR
I suspected things were going to get bad last night when someone set up this table of anti-tear gas supplies and first aid between my building and the mosque next door. PHOTO OF FIRST AID STATION BETWEEN MY FLAT AND MOSQUE
Istanbul at 5am, June 16, 2013 VIDEO OF TEAR GAS BEING FIRED IN THE NIGHT
JUNE 17, 2013
Hey everyone, things have calmed down in Istanbul. I was shell shocked yesterday after 2 nights of hearing the police chasing down and firing at the protestors and reports of other meyhem. Got out of my neighborhood, which was practically Ground Zero, right before it got really bad and to a friend's house in a much calmer traditional neighborhood, where I don't think they're even aware that this is going on. Came back today to pack up my the rest of my things and it's like did I dream all that? Things are normal and calm. Everyone has gone back to work and is shopping and eating at cafes…I think I'm seeing how they do this now. They work during the week and demonstrate and clash on the weekends. I think I'll plan to be at the beach next weekend.
JUNE 19, 2013 STANDING MAN
Standing man/Duranadam: "If the government won't hear our voices maybe they will listen to our silence."
For the first time in 3 weeks musicians played again last night in venues throughout Beyoglu. The mood of patrons was somber and hushed and normally manic Istiklal Aveune was eerily empty. It's been only 4 days…Turks may not be able to voice their opinions openly, but their music says it all. SEE VIDEO (POSTED JUNE 20)
JUNE 24, 2013
Once tasted, no amount of tear gas can erase the taste of freedom, and everybody wants it. This video was taken today, Sunday, in Istanbul, on the same avenue on which police chased down peaceful protestors last night with tear gas and water cannons.
I am sharing what Patricia Moore wrote after she viewed the video below, because I believe she is spot on: This scene is inspiring and uplifting. Seeing what has been going on in Turkey and Brazil, I continue to get the sense of an undercurrent bubbling up around the world. I think it is the current of the new energy that is wanting to emerge out of the the crumbling structures of the end stages of the industrial era. I know we have more to go in the ending. It will likely be messy and chaotic as it is in stages of transition and transformation. We are going to continue to experience more signs of the power struggle of those trying to hold on to the power represented in the outdated structures of our current models industrial capitalism. But, I believe and hope, that these protests and people's willingness to take a stand are the signs of the emergent future being birthed. A future based on freedom, equality and a sustainable future where all of life is respected; where we become stewards of life.
JULY 1, 2013 POST OF FILIZ TELEK SHARED
Viva the end of separatism! So heartwarming to be here now.
Let me try to share what's going on in Turkey today…everyday full of historical moments, these days!
Today, in a town in Southeast, Lice, police fired on Kurdish people protesting the expansion construction of a police station in their town. One person died, 8 people got injured.
Before Gezi, this would have been just *news* in Western Turkey. Tonight, neighborhood forums around Istanbul either marched in protest, or stood silent or discussed the situation. People kept chanting: "the fraternity of the peoples"
This is massive!
Now I am watching livestream (http://capul.tv/) from the biggest neighborhood forum in Istanbul. AMAZING! There are more than a thousand people currently participating at the forum. There are people from other forums sharing reports, there are amazing invitations for solidarity, there's honoring of diversity, there's sign language for deaf people, there's everything…incredible self-organization, awesome collective intelligence, striking solidarity…
of course, so much
LOVE
On the island of Burguzada,30 minutes from Istanbul by ferry, there are no cars. The silence was deafening! And then after 4 days I welcomed once again noisescape of Istanbul.
July 7 near Istanbul, Turkey
Packing my gas mask again…sheesh. Who knew I'd need a gas mask for a garden party?
July 19 near Ithaca, Greece via mobile
Sailing through the land of Odysseus.